色々なところに注文していた色々なものが届いた。
まずは、amazon.comから届いたDVD。
40 Years of Silence: An Indonesian Tragedy. Director: Robert Elson. Elemental Production.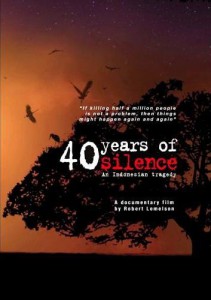 Official Siteもある。1965年の9月30日事件のあとに起きた虐殺を扱った作品。ようやくDVD化、そして入手できた。
これに関連して、スハルト体制下で流布された政府公式歴史観を扱ったのが、次の本。ハードカバーしかなくて高いのだけど、イギリスのJoppa Books (abebook.com経由)が妙に安かった。
Michael Wood. Official History in Modern Indonesia: New Order Perceptions and Counterviews. Leiden: Brill, 2005. [ISBN: 90-04-14478-1]

AWS Access Key ID: AKIAIZYRM4XS4VM6PNAQ. You are submitting requests too quickly. Please retry your requests at a slower rate.
あとは、色々あって最近追っているドキュメンタリー映画、ニュース映画についての本。
「日本ニュース」記録委員会編『ニュースカメラの見た激動の昭和』日本放送出版協会、1980年。
毎日新聞社編『別冊 1億人の昭和史 日本ニュース映画史―開戦前夜から終戦直後まで―』毎日新聞社、1977年。
NHK取材班編『日本の選択4 プロパガンダ映画のたどった道』角川書店、1995年。[ISBN: 4-04-195406-1]
全てamazon.co.jpのマーケットプレースにて古本で入手。